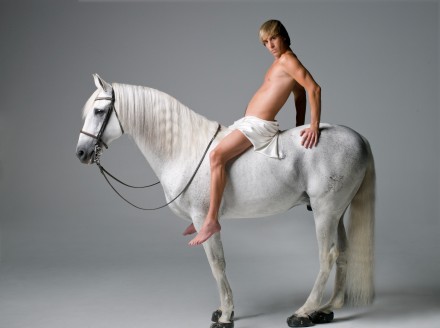 Sacha Baron Cohen's mockumentary hijinks have gotten him in trouble again, only this time it's not with university students worried about their street cred. It's with terrorists. WorldNetDaily's Jerusalem bureau chief Aaron Klein has announced that he received a statement from the Al Aqsa Martyrs Brigades, the terrorist group interviewed in Baron Cohen's new film Bruno:
"The Al Aqsa Martyrs Brigades, the terrorist group depicted in the film "Bruno," is "very upset" their group's namesake and former member was featured in a film about a homosexual character that includes graphic depictions of homosexual sex. The group, as well as individual members, released a statement to WND's Jerusalem bureau chief Aaron Klein that includes a veiled threat against the movie's star, Sacha Baron Cohen:
"We reserve the right to respond in the way we find suitable against this man (Cohen)" said the statement. "This movie was part of a conspiracy against the Al Aqsa Martyrs Brigades," continued the statement, released through a senior member of the group in the West Bank. "According to what we checked there was no meeting about the real context of the film. This was a dirty use of our brother, Aiman, and we don't accept that the name of the Al Aqsa Martyrs Brigades is part of the film."

Aiman is a reference to Ayman Abu Aita, who was interviewed in the movie "Bruno" and labeled as a "terrorist leader" from the Brigades division in the West Bank city of Bethlehem. Aita told Klein yesterday the movie mislabels him and that Cohen conducted the interview under false pretenses. Aita said he is pursuing legal action against Cohen."